I got my ornaments today. Thanks so much everyone for participating, and I have to say, I loved mine Alexia. :-)


EDIT: It's going to be the deadline before I can mail stuff out. My mother has to mail it out for me and she's put a price limit on my mailing for the moment...in other words, I have no money for it to go out until next week.

Just a reminder for everyone, though...that the deadline remains the same for mail outs: December 11th, and I would like to remind you all that in signing up you agreed to send me a tracking number when those mailings do go out. I will be sending everyone an e-mail today, just in case you don't check LJ, so that no one gets left out.
My ornaments are being shipped out tomorrow, assuming that i can walk into the local post office (my back is spasming something awful this week...)
You Are a Bow


You don't think of it as the holiday season - you think of it as the present season!

knittergoddss
's livejournal from a few days ago. I posted pictures of some of the other ones I had made...this one is a little larger then those because I used size US5 needles instead of the regular size US3 needles. It's still pretty in real life, though.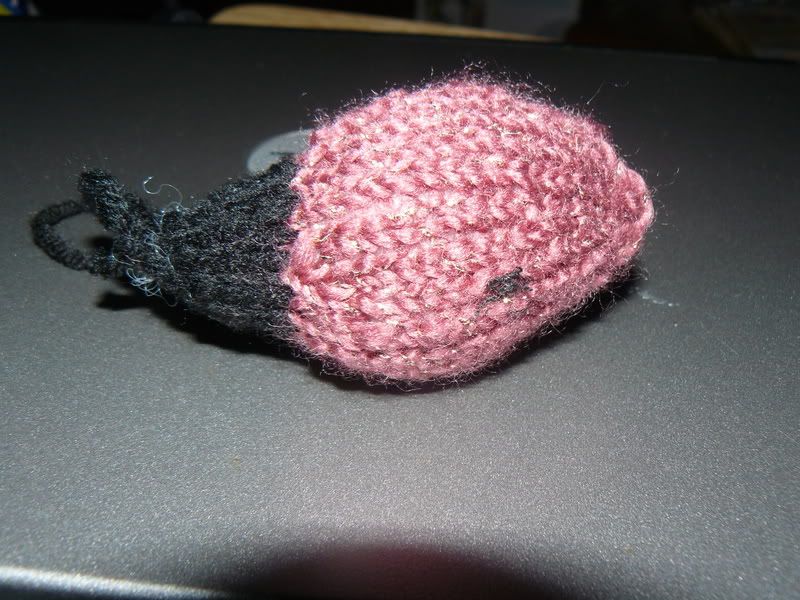 I have the first ornament completed and thought I'd post a picture because we've been such a quiet community. I know it's a shotty picture at best. Let me know if you want the link to the pattern, though it can be found in


Please e-mail me or post here if you have any problems at all.

~Jennifer-Lynn~
Sign-ups are closed this group. E-mails have been sent to everyone with their assignments. Don't forget to post pictures of your progress :-) We'd all love to see what you're working on.


~Jennifer-Lynn~
Just 24 more hours. Well, sort of. I'm going to keep them open until midnight EST, on the 10th, which means that there are actually roughly 48 hours left. I hope we can get some more sign ups, because at the moment, we have a very limited amount. Feel free to pass on the information to as many people as possible. Looking forward to seeing what everyone's been able to create :-)


Thanks so much.

~Jennifer-Lynn~
Okay, the group has five members, including me, but so far I've only gotten four sign-ups including my own, and I know at least one of those sign-ups wasn't in this group. So, would anyone still wants to sign up, please e-mail me. I'm hoping we'll still be keeping this up, so if you know anyone else who wants to join, please pass on the details :-)


1) To reduce shipping costs, I will try my best to pair people up within their country of origin. I apologize in advance if only one person from a country signs up, and I am unable to do that for them.
2) You should plan to knit/crochet two ornaments.
3) As I originally posted, you may sign up until November 10th. On November 11th, I will send out e-mails, letting everyone know who they are sending their ornaments to.
4) You have until December 11th (which is a Thursday, and exactly two weeks before Christmas) to send out your ornaments. Post your pictures here when you have completed your project, and make sure you e-mail me your tracking numbers.
5) I will send out an e-mail on December 4th reminding everyone that their deadline is only a week away.

I will try to post updates/clarifications as they are brought to my attention. Thanks so much to those of you who have already e-mailed me/posted. I appreciate it.
This is my first time organizing an exchange, so several things have been brought to my attention.
knitting/crocheting
exchange!
This is how it works:
Fill in this the following form and sent it to me by email:
knittergoddss@hotmail.com
Name:
Mailing adress:
Any comments, suggestions or questions:

You can join until November 10th; after that, I will send everyone who joined an email with the information they need to sent/make their work to another person who joined the exchange. And then everyone has (plenty, I hope) of time to knit/crotchet their work!
The idea is that you make something nice for someone else, and get something nice at Christmas in exchange. If you have finished you exchange work, please send me an email with pictures, so that I can post the whole exchange in the community around Christmas!
Rules:

1-You have to be able to actually finish the thing you are knitting/crotcheting for someone
2-Take one picture (or more) of the finished object, and sent it to me by email (you MUST do this, to make sure all the entrants are honest people)
3-You may spend upt to $10 or less on supplies (don't use more money to buy the supplies!)
4-You may use left-over yarn also
5-You must pay for a tracking number of your package at the post office, and sent that number to me by email
6-People from every nationality, sex, and age are welcome to join!
I hope I explained everything clearly, if not; feel free to ask questions!!!
I hope that many of you will enter!
PS...thanks to Becca, who I plagarized most of this post from.
My dear fellow knitters! The other day, I signed up for an awesome Harry Potter knitalong. (check my journal for more information) That exchange made an idea pop in my mind: A Christmas Ornament